Rayvon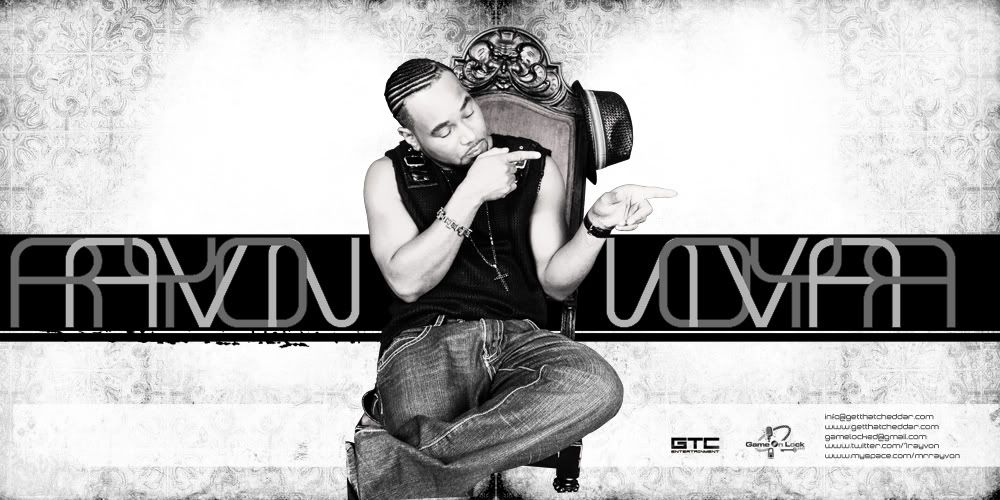 RAYVON BOOKINGS INFO:
For bookings for Rayvon contact 347. 789.1444  kshoyamusic@gmail.com
 courtesy of  GTC Entertainment.
RAYVON BIO
Most artists dream of a career that spans over a decade boasting international accolades, chart-topping hits, and underground classics, Barbadian-born/ Brooklyn-raised Rayvon has garnered this success and more while affectionately being dubbed the ambassador of POP/R&B/and Hip-Hop Reggae. His remarkable talent has paved the way for the next generation of Barbadian recording artists such as Rihanna, Shontelle, and Jaicko. Inspired by Jamaican music revolutionary Bob Marley, Rayvon has performed for royalty, toured the globe, and shared stages with such monolithic icons as the Rolling Stones, Michael Jackson and the legendary James Brown, who christened him the "reggae Usher." Just to think, he owes it all to one day of truancy.
My first recording was when I was a sophomore in high school. I actually had to cut school to go do it," he laughs. "It was a one-time opportunity that came my way and I just hopped on it." Unbeknown to him that day his incessant love of music would spur on the wheels of fate…in more ways than one. "But I got in trouble for it! The principal called my house!" This brave act of rebellion soon paid off for Rayvon in the form of spins on a local New York radio station. And though hearing his first song played on the airwaves and nightclubs earned him bragging rights and boosted his confidence, he had reservations about the earning profitability of his musical talents. "I still wasn't thinking I could actually make a career out of it, because I wasn't making any money," he admits. "I still didn't catch that big break yet."
As luck would have it he would soon cross paths with another burgeoning artist who would change the course of his career forever. Brooklyn-based/ Jamaican-born vocalist Shaggy arrived for a session at the same local studio where Rayvon had also been recording. Upon the suggestion of the producer, the two began collaborating on a string of tunes that would culminate in the 1992 Sting Int'l produced regional hit "Big Up." "We both got our break with that record. That kind of put both of us in the reggae/ spotlight. I had a smooth-edged style of singing and he had that rough DJ style. The chemistry was good." In the 90s, Shaggy's released the hit "Oh, Carolina" with a B-side featuring Rayvon covering The Melodians' classic "Rivers of Babylon". Shaggy's subsequent signing with Virgin Records landed he and Ravyon their first tour, further establishing his faith in a viable music career.
The following year, his solo star began to brighten with the release of his hip-hop reggae classic "No Guns, No Murder" (produced by Funkmaster Flex) on the venerable VP Records. The track hit a trifecta on Billboard, ranking in simultaneously on the Hot 100, Rap Singles, and R&B/ Hip-Hop Songs charts. "That put me under the DJ spotlight as far as was concerned, because I was previously known as a singer. A lot of people didn't know I could chat (patois for "rap"). People were calling me up saying some dude had a hit on the radio using my name. I was like, 'Nah, that's me!'" VP issued the follow up "Pretty (Before I go To Bed)," which quickly impacted the Billboard's Rap Singles chart. Rayvon's' career trajectory accelerated in 1995 when he recorded the island-tinged duet "In The Summertime" from Shaggy's platinum, Grammy award-winning album Boombastic. The song was a cover of Mungo Jerry's 1970 hit and following in its original success Shaggy's version with the help of Rayvon reached No. 3 on Billboard's Hot 100 and No. 5 in the UK while also featured in various major motion pictures and television series.
After trotting the globe for two years, Rayvon inked his first major label deal and joined the Virgin Record's roster with his cohort. Though hopes were high for his impressive debut album Hear My Cry, the album largely hovered under the radar in a whirlpool of label politics. "I came out in a year where it was like a small dog among big dog," he recalls. "Virgin released albums by UB40, Janet Jackson, Rolling Stones, and the Spice Girls that same year. I was caught in that whole whirlwind. If you don't have people on the inside fighting hard on your behalf, you're going to get lost."
Rayvon spent the next few years diligently releasing underground singles including "Bashment Party," which positioned itself on Billboard's Rap Singles chart. In 2001 he lent his vocals to yet another smash Shaggy duet, "Angel," from the 6x Platinum seller Hotshot. This time, the duo topped Billboard's Hot 100 and took home an American Music Award for the wildly successful tune. "It catapulted us into a national spotlight. We performed that song everywhere, from Live with Regis & Kelly and Saturday Night Live to All My Children." The song has since clocked in at 18 million views on YouTube and has been certified gold and platinum around the world. Later that year, Rayvon signed with MCA Records and released "2-Way," the first single from his 2002 sophomore offering My Bad. It reached No. 10 on BET's 106 & Park countdown and chimed in on Billboard's R&B/ Hip-Hop Songs chart. The title track stands at 83 thousand views on and boasted No. 1 at Top 40 Radio for 4 weeks. But when the label folded, Rayvon decided to take inventory.
"Sometimes you have to take a step out, regroup, then come again," he theorizes. "And when you come again, you have to come correct." Rayvon continued to collaborate, perform, and release underground singles. One such track, "Games We Play," has tallied more than 90 thousand views on alone. Yet despite the outpouring of his fans support domestically and abroad Rayvon decided to forgo inking another major label deal and instead cull from his vast experience to take control of his own music career.
In 2010 he established his record label Get The Cheddar (GTC) Entertainment and I think it's a good change, because I have more creative control. This past Fall 2010 marked GTC's inaugural release and Rayvon's eponymous third full-length album. Rayvon features track work from heavyweights such as Jah Snowcone (Sean Paul, Vybz Kartel) as well as the production prowess of Danny Champagne, Ali Cat, and Carl "Beaver" Henderson.
The first single "Back it Up" is a hard-edged pulsating groove that will have guys jumping and ladies gyrating. "My intention was to hit my fans with a real party anthem." From "Hustle and Flow" to the pop reggae lilt of "Wedding Song," the album result is an explosive collection of sonic heavy hitters ("Riding Skill"), Euro dance ("Private Dancer"), and his patented brand of hip-hop reggae ("Get Money," "Bang Bang"). "The album has a lot of different elements. We put 100% into each element. There are party songs, traditional lovers rock, reggae, hip-hop, dancehall, and soca. There's something to tap your feet, move your head, and give you good vibes throughout your body. I want them dancing to some of the songs or maybe have an intimate evening with their better half." To date, "Back It Up" has garnered Rayvon an International Association of Independent Recording Artists (IAIRA) award and ranked in at No. 1 on Indie-Music.com's top 25 for 2011. The second single "One N Only" is swiftly giving chase at No. 2, with a swinging Caribbean flavor and R&B/Hip-Hop swagger.
Rayvon likens the completion of this album to a labor of love. "This was much harder. I was much more hands on and put all the producers in place. It was harder, but it was well worth it." And the rewards he has been reaping lately have surpassed those of chart topping and record sales, evidenced in his prestigious 2010 New York State Assembly Man of Distinction award. Changes in the contemporary musical landscape withstanding, Rayvon is keenly aware one thing will always remain the same and never alter music history: "People have grown up with the songs I've done over the years. If you have classic songs under your belt, they're still playing. People want to hear good music. Reggae music is feel good music. Feel good music will never die."